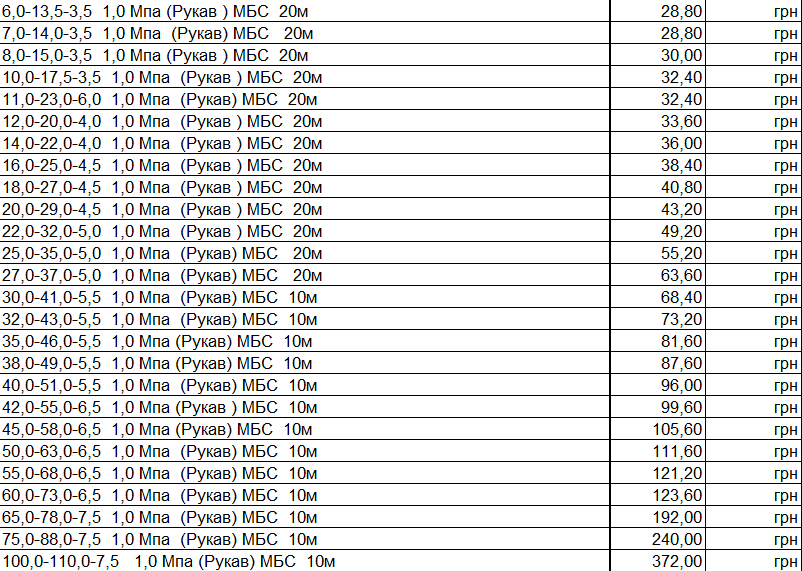 (MBS- oil-and-petrol resistant) sleeves as flexible pipelines have been used to supply pressurized liquids such as: low-freezing cooling liquid, oil-based oils, water, jet and diesel fuel, fat grease lubrication, weak solutions of inorganic acids, alkalis of aviation and automobile gasoline (up to 20%), except nitric acid.
Operating temperature of fuel- dispensing hoses in degrees Celsius : from -50 to +90 CL class (cold climate) from -60 to +90.
Sleeves MBS consist of an internal rubber layer, a filament frame and an outer rubber layer.
Available working pressure 0.5: 1.0: 1.6 MPA. Sleeves are made from 10m to 50m long.
Advantages of MBS sleeves

In order , not to fall into any of the above situations, buy and use only tested and certified MBS tube. Below are a number of advantages that the MBS GOST sleeve has, which is realized by our company:
Guaranteed quality .

High resistance to damage .

Long service life .

Increased resistance to petrochemicals.

Flexibility .

Adequate value of the goods .

Due to the fact that all the oil and petrol resistant hoses that we offer, are strictly monitored for compliance with all necessary standards, they are subject to quality assurance. This means that by ordering MBS sleeves in bulk from us, you will receive the highest quality products. In addition, our MBS hoses are very flexible and have little mechanical or chemical damage, which in itself is important. Another factor in favor of our oil and petrol resistant sleeves is their price, which is not overstated without good reason.
Is possible to buy quality MBS sleeves

So, it's absolutely obvious that when it comes to oil-and-petrol resistant, it's not a joke. Their condition directly affects the safety of people's livelihoods, as well as the uninterrupted operation of various equipment. In view of this, it is extremely important to have at your disposal exactly the MBS GOST sleeve, i.e. the kind of tube that fully meets the quality standards. It is such products that we offer to your attention. We fully guarantee the high quality of our oil-and-petrol resistant sleeves, as well as their reliability and long service life.

In order, to buy MBS hoses we select from the catalog of your desired item and click on the appropriate button. Take care of security today, because otherwise tomorrow may not come.